Willow Park Moortown > The Development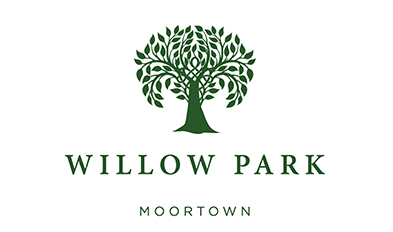 Willow Park is a small collection of 4 and 5 bedroom homes located in Moortown, one of Leeds' most sought-after locations which lies within the LS17 Postcode area. Comprising 4 house styles each is meticulously designed to fit in with their attractive landscaped surroundings. As the sequel to the hugely successful nearby Parklands development, new home buyers can be assured of an unrivalled quality by a celebrated luxury NHBC house builder.
Each home on this exclusive, private cul-de-sac boasts a high level of attention to detail that has become synonymous with a Camstead home. The crisp white-rendered exteriors are complimented by distinctive Yorkshire stonework for a luxurious appearance. Every home offers a comfortable living space with a quality finish throughout to meet the high levels of luxury demanded by discerning homeowners. To take advantage of its landscaped setting there are feature bay windows to the ground floor and the master bedrooms have either Juliet or walk out balconies with glass balustrades. Residents will be able to enjoy exclusive access to the development's manicured gardens which provide a safe and relaxing environment where children can play and parents can unwind.
All properties are now reserved.
For more information please contact our selling agents – Manning Stainton T: 0113 203 4181 E: willowpark@manningstainton.co.uk 

This website information designed to give a general idea of the type of home on the development and how it could be decorated and furnished: they are not however, to be taken as part of the specification or contract. Dimensions are as accurate as practicable, but they may vary depending on internal finishes. The latest materials are always used, therefore certain modifications are always inevitable. Each prospective purchaser should, therefore check the plans and specification of the home in which they are interested with the sales staff. The marketing name may not always be retained. Images used in this brochure show previous developments and are for illustrative purposes only. Specification may differ from imagery, please ask sales staff for details. Some of the images in this brochure are computer generated. Please note that floor plans are not published at the same scale as each other.